Swapping the Pontiac 350,400, and 455 into a G-Body car:
This is a short description of swapping a Pontiac V8 into a '85 V6 Regal.
I used upper and lower mounts from a '78 Pontiac Trans-AM, the mounts can also be used from any A-body or G-body car with the Pontiac 301 engine, I have found that these make very good parts cars, or good foundations for the swap. The 301 uses the same alternator bracket, power steering pump and bracket, HEI distributor, front cover and a few other odd parts as the 350, 400, and 455
The location and position of the frame mounts are shown in the pics below...........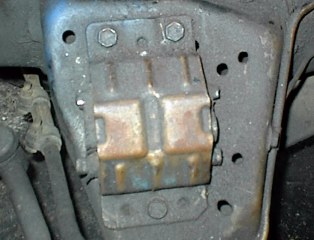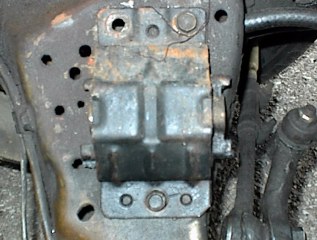 | | |
| --- | --- |
| | pass. side mount driver side mount |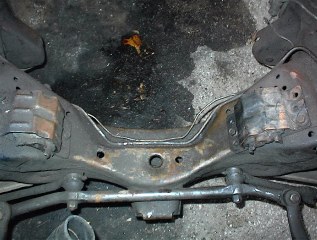 | | |
| --- | --- |
| | I used the original transmission crossmember and mount for the TH350 , I had the crossmember notched on the driver side to clear the exhaust pipe from the headers. |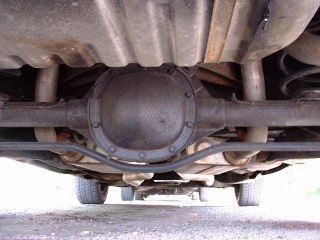 The alternator, battery, and starter are on the opposite side as the Buick V6 so I decided to use a one wire alt. this saved a lot of time and trouble, re-routed the wires to the battery and starter to the driver side of the car. The HEI distributor hot wire only needed shortened a little . I didn't use the A/C or any other type of electrical stuff so the other wires were stuffed in a nice tiddy place far away from the car.


The headers I used were 3 tube Headman with 1 5/8" tubes, 3" collectors that were designed for '64-'73 GTO, LaMans, and Tempest, the lower control arm bracket on the pass. side had to be modified to clear the header tube, I had to grind about 1/8 inch from the bottom of the lower control arm bracket.
The power steering pump is from a '78 Trans-Am, the fluid lines had to be modified for the pump, the earlier style lines used a flared fitting for the steering box, GM changed to an o-ring type of fitting in the later models.
The fan shroud can be used from any '78-'88 v8 A/G-Body car, the one I used is from an '86 Cutlass with the 307 engine, the radiator is a 3 row type ordered for a '86 Regal /Cutlass with the 307 engine option and heavy duty cooling.

11/16/01

Pics and info of my Regal

Pics of my Cutlass

Links to Some of My Favorite Sites

Email me